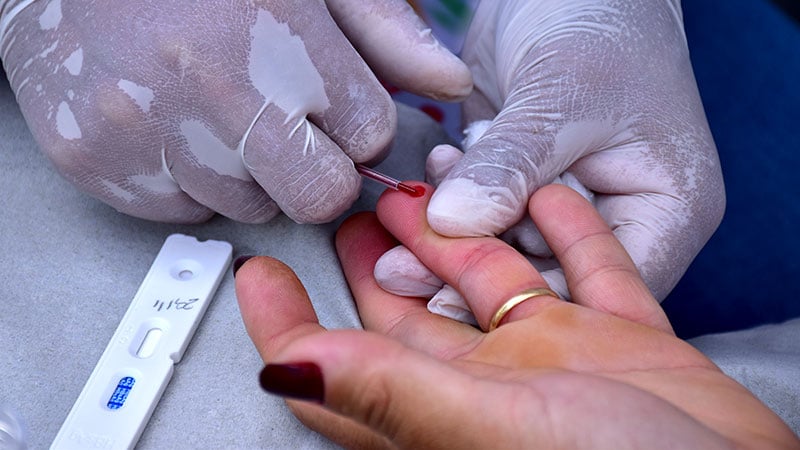 Can introducing anti-HIV drugs in primary care reduce stigma?
Integrating HIV prevention and treatment into primary care could help address the lingering stigma of the virus, which prevents some patients from accessing drugs that can prevent infection, researchers say.
Revisiting health care sites, separate hours or days, or dedicated staff for HIV prevention and care is a key way for clinicians to reduce stigma and reach more patients, say experts. authors of a recent article published in July 2022 Journal of the International AIDS Society.
In their article, co-authors Sarit A. Golub, PhD, MPH, and Rachel A. Fikslin, PhD, both of Hunter College, New York, note that several studies conducted in sub-Saharan Africa have shown that integrating care care in primary care improved patients' willingness to accept HIV-related services, increased enrollment in HIV care, and increased retention in HIV care among clients over time.
Navigating "through care without being labeled by members of their community as having HIV" could "reduce experiences of discrimination and give people more control over disclosure," write Golub and Fikslin.
But there are challenges to making such a change.
The paper also calls for a fresh look at clinical protocols associated with HIV pre-exposure prophylaxis (PrEP), particularly given the "widespread recognition that frequent appointment requirements for HIV care and the demands of quarterly refills for PrEP are extremely burdensome".
In an interview with Medscape Medical NewsGolub also noted a general discomfort among doctors asking about people's intimate experiences.
"The biggest barrier to integrating HIV into primary care is the fact that we often don't integrate sexual health into primary care," Golub said. medical landscape in an interview. "There are still a large number of primary care providers who don't feel comfortable talking about sexual health with their patients."
Increase use of PrEP
The same HIV service implementation overhaul is part of broader efforts underway to increase the use of PrEP in the United States to reach more people who may be able to protect themselves from HIV.
An influential US panel updates its recommendations on PrEP, highlighting questions about the effectiveness of integrating the drug further into primary care.
Among the questions posed by the US Preventive Services Task Force (USPSTF) for its current reassessment of its PrEP recommendations include:
What are PrEP adherence rates and factors associated with increased or decreased adherence in primary care settings in the United States?

What factors (such as race and ethnicity, age, sex/gender/sexual orientation, HIV risk category, socioeconomic status, cultural factors, educational level or health literacy) are associated with disparities in PrEP use?

How effective are primary care interventions in reducing disparities in PrEP use?
The current USPSTF PrEP guideline, published in 2019, gives a maximum grade, an "A" grade, to clinicians offering PrEP along with effective antiretroviral therapy to people at high risk of HIV infection. No care setting is mentioned in the recommendation itself. But the USPSTF notes in the accompanying text the difficulties in identifying those at risk of contracting HIV due to stigma, discrimination, or lack of trust between patient and clinician.
Last year, the Centers for Disease Control and Prevention (CDC) recommended that clinicians inform all sexually active adults and adolescents about PrEP. The CDC's PrEP guidelines are straightforward, placing the prescription of these drugs "well within the scope of practice of all primary care clinicians," Christopher M. Bositis, MD, said in a July. medical landscape online seminar.
"As many as 1.2 million people in the United States have indications for PrEP use," said Bositis, a family physician and HIV specialist at Greater Lawrence Family Health Center in Massachusetts. "Unfortunately, not everyone who could benefit from it takes it."
In an email exchange with Medscape Medical News Commenting on the recent article by Golub and Fikslin, Jessica Jaiswal, PhD MPH, University of Alabama, agreed on the need to further integrate HIV prevention into primary care, but also noted some of the challenges . These include a lack of resources in clinics that work with underserved and marginalized people. There are still misunderstandings about who can prescribe PrEP, she writes.
"Integrating HIV prevention into primary care settings is entirely possible – and should be the goal – but structural constraints really limit the ability of healthcare providers to do so," Jaiswal wrote. .
"We often highlight clinicians' lack of knowledge about HIV prevention (e.g., PrEP) or their lack of cultural sensitivity, but it's important to recognize that healthcare providers are generally unprepared to succeed in this area, especially in primary care settings," she says.
Arguments for and against algorithms
Some researchers have sought to use algorithms to make it easier for clinicians to reach patients who may benefit from PrEP. It is a practice that Golub and Fikslin criticize in their article.
"The concept of 'high-risk' behaviors, individuals, or populations evokes powerful stereotypes, which have consistently fueled prejudice and discrimination in healthcare settings," they write.
But Douglas Krakower, MD, of Beth Israel Deaconess Medical Center, is among those who see the potential benefits of algorithms, especially in light of efforts to further integrate HIV medicine into primary care.
In 2019, Krakower and his colleagues published an article in The Lancet HIV on their research on using electronic health records to help develop these types of algorithms for primary care. The algorithms could help clinicians reach patients most likely to benefit from PrEP as part of efforts to integrate counseling about the drug more broadly into U.S. healthcare, Krakower said.
"We should shape the tools in a way that really gets providers to a point where they have the training and the understanding of how to do it in a non-stigmatizing way," Krakower said.
"Our thinking is that these tools could actually accelerate the process of getting more people into HIV prevention services, at least as we work towards the ambitious goal of universal PrEP discussions." , did he declare.
In their interviews with Medscape Medical News, Golub and Krakower both complemented each other's work while stating different points of view. They said they have respectfully and publicly disagreed for some time over the role of algorithms in HIV medicine.
Golub said she understands the impetus behind using an algorithm to find patients who might benefit from PrEP, given the intense demands placed on clinicians. But the algorithms developed to date have not proven their accuracy, leading to the risk of stigmatizing patients.
These factors could make any clinician wary about using algorithms, she said. If they look carefully at the performance of the algorithms and the real risk of contributing to stigma, "they might actually make different choices."
Both Golub and Krakower advocated for a more active role for clinicians in primary care so that they become more active in HIV medicine.
"If you can make it a medical condition, where people feel included in primary care like they would with any other condition, that would reduce the stigma," Krakower said.
J Int AIDS Soc. Published online July 12, 2022. Full text
Kerry Dooley Young is a freelance journalist based in Miami Beach, Florida. She is responsible for the central theme of patient safety issues for the Association of Health Care Journalists. Follow her on Twitter at @kdooleyyoung.
Follow Medscape on Facebook, TwitterInstagram and YouTube