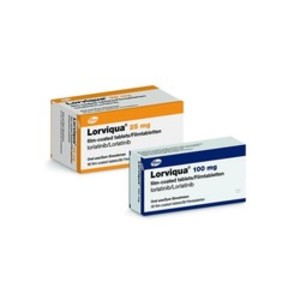 Pfizer gets green light for sales of ALK-positive lung cancer drug
[ad_1]
Pfizer Korea has stated that its treatment for ALK (Anaplastic Lymphoma Kinase) Lorviqua 25 mg and 100 mg non-small cell lung cancer (NSCLC) has received approval from the Ministry of Food and Pharmaceutical Safety.
Although the ministry has approved the drug to treat adult patients with advanced ALK-positive NSCLC, hospitals can only use the drug as monotherapy when a patient has received alectinib or ceritinib as an inhibitor of the drug. 'First-line ALK or when treated with crizotinib or at least one other ALK inhibitor.
Although patients with ALK-positive NSCLC represent less than 5% of patients with advanced NSCLC, there is a high demand for new drugs due to frequent recurrences and poor prognosis. In addition, more than half of the patient groups have their cancer metastasized to the central nervous system.
Due to these unmet needs, Lorviqua received the most experimental new drug approval in the first half of this year.
The investigational new drug is a system that approves the use of drugs by hospitals only for clinical trials under ordinary circumstances prior to product approval and provides treatment options for patients with serious life-threatening illnesses that have no other therapeutic means or have a serious prognosis. threatening diseases.
In clinical trials, Lorviqua effectively treated ALK-positive NSCLC in one main study, which included 139 patients whose disease had worsened despite treatment with alectinib or ceritinib or crizotinib and another ALK tyrosine kinase inhibitor. .
The company assessed response to treatment using body scans and standardized criteria to assess solid tumors.
About 43 percent of patients who had previously received alectinib or ceritinib experienced a complete or partial response to the drug.
Of the patients who received treatment with crizotinib and another ALK tyrosine kinase inhibitor, approximately 40 percent showed a complete or partial response to the drug.
Lorviqua was also effective when the cancer had spread to the brain. Depending on the previous treatment the patients had received, approximately 67 and 52 percent of patients treated with Lorviqua showed no or fewer signs of cancer in the brain.
[ad_2]