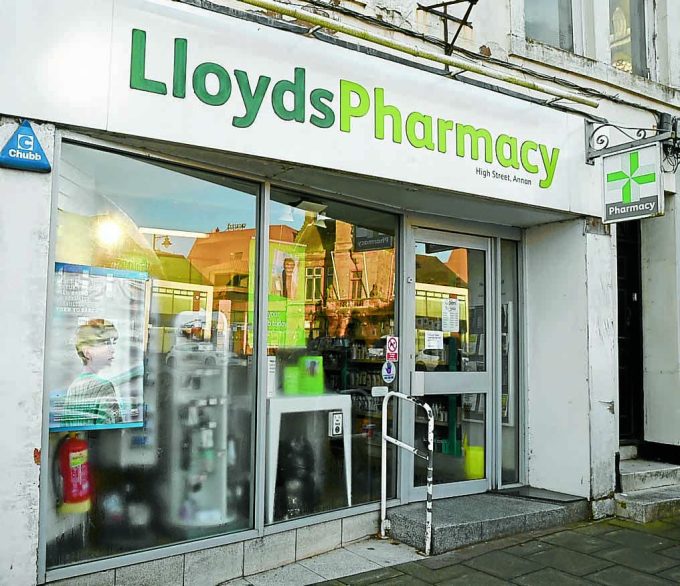 The pharmacy "has an action plan in place"
A PHARMACY chain says it has an action plan in place to deal with persistent problems at one of its branches in Annan.
Concerns were raised at the Annan Community Council meeting this week over the two Lloyds Pharmacy sites in Rose Street and High Street.
Members noted that customers are often forced to queue outside, sometimes for hours, before they can pick up their prescription.
Community adviser Neil Carruthers said: 'It's been going on for a while, they (Lloyds) assured us they had it sorted and were aware, but they clearly didn't. I was there a few weeks ago and there were people queuing for hours, returning empty handed.
"With winter coming, there are people waiting outside for several hours in the cold."
Lloyds attributes staff shortages to the root cause of the disruption and says they are working hard to resolve the issues at their High Street store.
However, they declined to comment on the queues at Rose Street and another claim made at the community council meeting that this branch is destined to be closed.
A LloydsPharmacy spokesperson said: 'Due to staff shortages, there has been disruption at our LloydsPharmacy at 37 High Street, Annan. Our customers are very important to us and we apologize for any inconvenience caused.
"We have an action plan in place to make improvements to this branch as soon as possible. We have successfully recruited two new team members. We are actively recruiting a full-time pharmacist and working with other community pharmacy operators and the NHS to address industry-wide workforce challenges.
Asked about Rose Street, the spokesman added: 'We have nothing further to add.